Meet Richard King: One of the top Sommeliers Of China
19/07/2021
Richard King shines light on how young sommeliers can aim towards becoming the perfect international sommelier and how to grow your restaurant wine sales.
Richard King, the winner of the New Zealand Junior Sommelier Of the Year 2016 started his own business in culture communication this year. The wine part of his business specializes in private wine education, restaurant wine consulting, and marketing activation for overseas wineries. His day to day role involves:
1. Customised private wine education
With the exit of WSET in Mainland China, consumers have started to rethink about education. There is a high demand for wine knowledge with the continued development of the wine scene in Shanghai. However, surprisingly people started to text me about if there is any wine education body that provides non-commercial classes. "We don't want certificates, just want to know what's in our glasses, and how to pick a bottle of wine out of the wine wall in wine bars or even bottle shops" quote from one of my students. So he usually does an interview for his students first to ask what they need, what they want to achieve, then design a custom class for them.
2. Wine list design, Service training, and Sales training
As a formal wine director and head sommelier, he continues with his business in restaurant consulting. So he along with his team are responsible for wine list design, service training, and sales training. Nowadays, restaurants continue to struggle with wine sales (people usually bring their own) and the high staff turnover rate.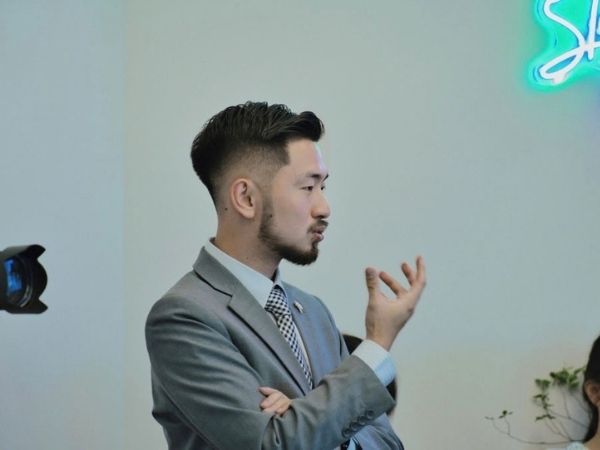 Richard King educating Customers
3. Helping with Market Activation
The third part of my wine business is, due to the covid, winery owners and representatives can't travel into China to promote. He helps with market activation. He has partnered with a master of wine to Livestream, online-offline masterclass, b to c tasting event, and wine dinners.
Richard King is a judge at the 2021 China Wine Competition. For brands looking to enter and grow in the China market, China Wine Competition provides you a platform to get your wines reviewed by leading sommeliers of China. Winners of the 2021 China Wine Competition will also be promoted in Shanghai Drinks Guide that Beverage Trade Network is launching this October.